Posted by The Kitchen Gift Company on 1st Feb 2023
So what is a reusable straw?
A reusable straw is a drinking straw which can be used over and over again. The reusable straw burst onto the market in 2018 after the problem of plastic pollution was highlighted in David Attenborough's Blue Planet 2 documentary. Shortly after, the UK Government announced its plan to ban the sale of single-use plastics and now there are an array of reusable straws available in various colours and materials including metal straws, bamboo straws and silicone straws. Pretty neat hey! Here are a few of our faves.
Metal Straws
Metal Straws are the most popular choice of reusable straw. Made with high quality stainless steel, they are super durable so won't break or bend, plus they are non-toxic, stain-free, rust proof, scratch proof and 100% recyclable. You'll never have to replenish your plastic straw supply again, saving you money in the long run. They feature a smooth rounded sipping end and they are available in some amazing colours. These metal straws by Flow Barware are available in Rose Gold, Copper, Stainless Steel and a fabulous Iridescent Rainbow straw…...perfect for Unicorn lovers! (They really do exist!)

So I bet you are wondering - Are metal straws hygienic? Sure they are! Each pack comes in a cotton drawstring pouch, making them easy to carry. They can be safely sanitised in your dishwasher. Plus they come with a handy cleaning brush which slides in and out ensuring the insides stay super clean.
Why is it important to use a reusable straw? Did you know that approximately 78% of the world's plastic is never recycled! One way in which you can make a difference is by ditching the single-use plastic straws in favour of a reusable metal straw. Not only are they super stylish and trendy, but they have many other benefits including:
Better for the Ocean & the Environment Plastic pollution is one of the greatest threats to our world and it is no secret that much of the world's plastics find their way into the ocean, harming the environment and marine life. Landfills and community open spaces also see huge concentrations of plastic waste. We can help reduce this influx of plastic into our environment by choosing not to use single use plastic straws but to reuse a metal straws again and again.
Reduces your carbon footprint Switching to reusable stainless steel straws means you use less plastic, in turn lowering the amount of plastic you dispose of. If we consciously choose to stop using plastic straws there is less of a demand for manufacturing them, which in turn will lower the amount of toxic industrial waste associated with the manufacturing process of single use plastic straws.
Better for your health, BPA Free Plastic straws are made from petroleum derived polypropylene which can leach harmful toxins into liquids which disrupt hormone levels, affecting health. By using a metal straw you cut down on the exposure to these harmful toxins as metal straws are BPA free.
Reusable These metal straws can be used and cleaned over and over again.
Money Saving The good news is that metal straws are fun, functional and totally affordable. No need to keep purchasing single use straws, so you'll save some money too!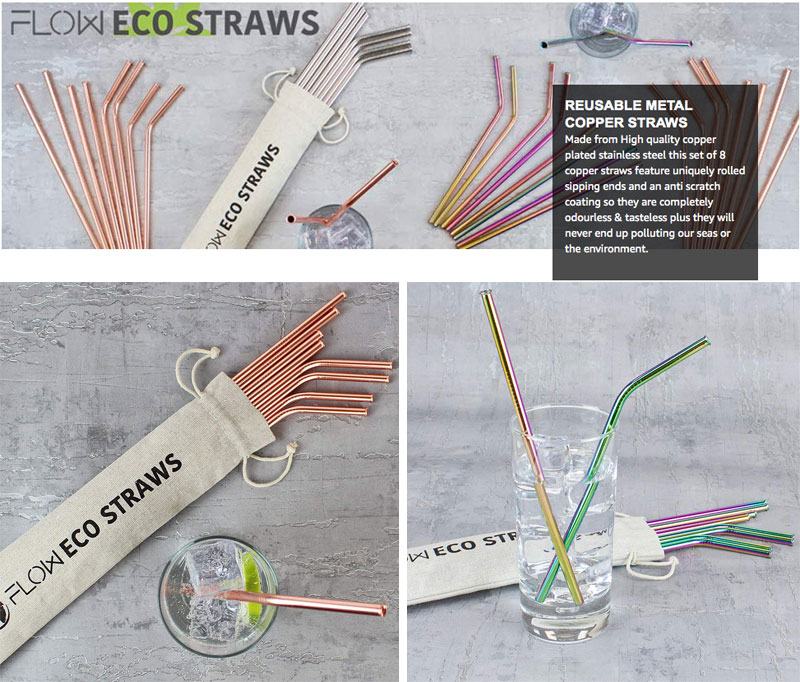 Copper Straws - Flow Eco Straws £7.95
Stainless Steel Straws - Flow Eco Straws £6.95
Iridescent Rainbow Straws - Flow Eco Straws £7.95
If metal straws aren't your bag then these bamboo straws make a lovely natural alternative.
Bamboo Straws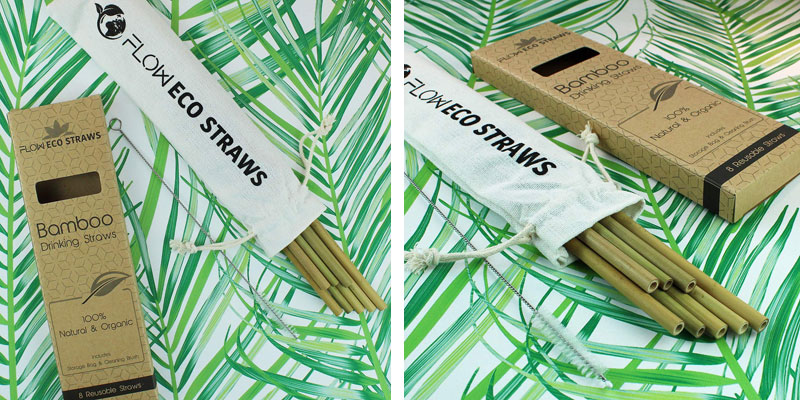 Bamboo Straws £6.95
Bamboo Straws are probably the best eco-friendly alternative to plastic straws. 100% natural and organic, they are completely biodegradable and don't pollute the environment. Completely naturally grown, each Bamboo straw is totally unique and so the size of each straw can vary. Totally reusable and compostable these bamboo straws are perfect for your kombucha, sipping your sangria or simply pop one in your Pina Colada to turn up the totally tropical vibe.
Let's not forget the kids! They love chewing down on a straw or two! Metal straws probably not a good idea, which is why these colourful silicone straws are safer alternative in preserving those pearly white's
Silicone Straws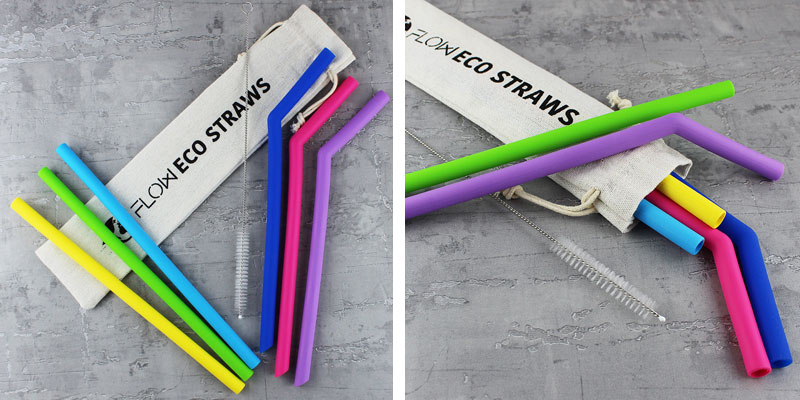 Silicone Straws £6.95
Silicone straws are a great choice of straw for kids. A better alternative to plastic, these FDA approved, food grade silicone straws are made from soft silicone, which are gentler on children's teeth. Plus they can be cut to any size! They are colourful, super durable and slightly wider than the metal and bamboo straws, making them perfect for kid's juices, milkshakes and for sucking up smoothies.
See the full range of Flow Eco Straws at FLOW Barware Metal Straws
"Did you know that by the year 2050 there will be more plastics in the ocean than fish and It can take over 200 years for a plastic straw to break down!"
Below broadcaster and conservationist Sir David Attenborough talks about the challenges of plastic and his plastic message. We too can all do our bit to reduce single-use plastic and these Flow Eco Straws are a great way to get started.