Please! no more socks, no more ties!! The Kitchen Gift Company has banned all run of the mill Father`s Day Gifts. Yes, Dad may need a tie, but he certainly does not want a tie. He wants a quirky gift or gadget, something that he would never buy himself.
Dads across the nation no longer have to endure boring Father`s Day gifts because The Kitchen Gift Co have launched 3 new products to their kitchen gift range, ensuring that Foodie Fathers have a day to remember. See all Fathers day gift ideas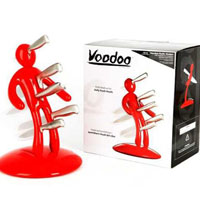 THE VOODOO II NEW EDITION KNIFE SET - This superb knife block designed by Raffaele Iannello will certainly put Dads culinary skills to the test. It comes with five razor sharp stainless steel knives and a clever magnetic suspension system to hold the blades. Manufactured to the highest standard this is the New edition of the popular Voodoo knife block and has undergone a substantial restyling which has improved both the aesthetics and the functionality. It has numerous new characteristics, including a heavier base which adds stability to the product and new tapered covers, which tightly fit the blades and are perfectly transparent to appear almost invisible. THE VOODOO II NEW EDITION - Comes in Red, RRP £79.99, Size 37cm (Height)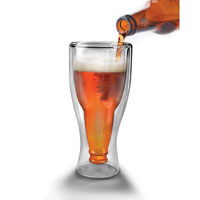 HOPSIDE DOWN BOTTLE GLASS - Bottle or Glass? How does your Dad drink his beer? This ingenious design will give beer loving Dads the best of both worlds...a bottle within a glass!! The hopside down bottle beer glass is cleverly crafted so that it gives the illusion of an upside down beer bottle within a beer glass. It is hand blown from borosilicate glass, lightweight and double walled so that Dads favourite beverage stays cool against his warm little mitts...GENIUS!! No more warm beer. HOPSIDE DOWN BOTTLE GLASS - Clear Glass, RRP £17.50, Capacity 330ml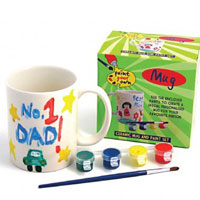 PAINT YOUR OWN MUG - This is definitely not a run of the mill mug. This paint your own mug set is perfect for kids on a pocket money budget and makes a truly memorable gift for Daddies everywhere. The set includes one chunky white ceramic mug, 6 coloured paints and a paint brush allowing them to get creative and make a truly unique Fathers Day gift. PAINT YOUR OWN MUG - Comes in White, RRP £4.99, Size 10cm x 10cm
"Your mission, should you choose to accept it, is NOT to buy Dad another car cleaning kit this Father's Day. Look through our fabulous gift range and you will find some great gift ideas for your Dad. If there is a decline in boring Fathers day gift sales this year, we will know that our mission has been accomplished." - Director at The Kitchen Gift Co.
The Kitchen Gift Co are a UK based independent online gift retailer specialising in kitchen gifts and gadgets. They bring together a broad range of products to the gift market, focusing on kitchen and food related items, providing inspiration to anyone buying gifts for kitchen lovers and foodies. Their products combine day to day practicality along with design excellence and a quirky edge, making them unique and memorable gifts for any occasion.
##ENDS##
Notes to Editor
Please feel free to contact me if you are interested in these products or any of our other fabulous products available from The Kitchen Gift Co