Posted by The Kitchen Gift Co on 1st Mar 2014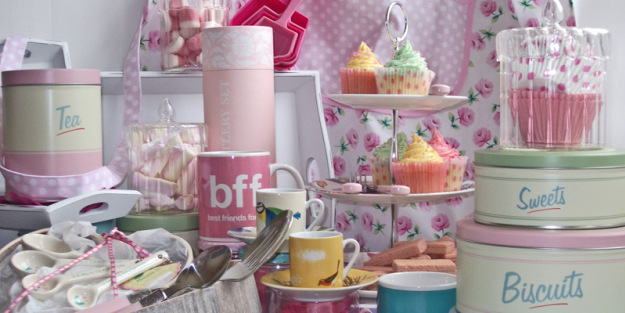 Key Trend for Summer – Pretty Pastels
Pretty Pastels are feminine and flattering and this summer`s key trend on the catwalk.These light,summery pastel hues are also being carried through to home interiors,with 1950`s inspired powdery pastel bakeware and kitchen accessories massively on trend again. So I looked at what was New in!! this week to help brighten up your summer.
This Rose Vintage Cutlery Set really adds a touch of retro style to your dining experience. The delicate design around the handles is decorative yet classic. The soft vintage rose colour will look equally as stunning at a dinner party, family picnic or your camping cookout. It makes an adorable gift and is available in pretty Pistachio and a very Retro Red.
Set to impress with this set of 5 antique white "le grand chic" trays. Pretty perfect for presenting afternoon tea or serving pre dinner nibbles. This shabby chic styled tray set along with a cafe au lait or two will transform your kitchen dining experience into a tres chic Parisian extravaganza. Ooh La La!!! "LE GRAND CHIC" TRAY SET - TRES CHIC!! Not pastel I know but oh so adorable.
I am all of a flutter with this magical 3 tier Butterfly Cake Stand by Laura Ashley Home. This bone china cake stand is fun, colourful and will show off your fondant fancies splendidly. Right on trend with this summer`s pretty pastels theme and a beautiful Butterfly and Polka Dot Design.
I just love these Vintage Inspired Glass Storage Jars. So versatile in the kitchen they can be used to store sweets, cupcake cases, cupcake sprinkles or a scented candle. I filled mine with yummy marshmallows for this summer`s pretty pastels trend alert.
Why not brighten up your summer with some pretty pastels