Creative wedding projects, including DIY Wedding Favours, Vintage style Flower Arrangements and Unique Entertainment Ideas. Plus FREE Wedding Printables and a Mr & Mrs Wedding Gift Guide.
Your wedding day, one of the happiest days of your life. One which has to be special, memorable and absolutely perfect. Of course it is an exciting time and you want a nice dress, the perfect venue, delicious food and gorgeous flowers, so proper planning is essential if you want to get hitched without a hitch!! Every couple wants their day to be the best ever, not only for themselves but also for their nearest and dearest. A day which will be remembered forever. So how can you make your wedding celebration uniquely different? Well, with a huge rise in the popularity of home crafting and "make do & mend" we are seeing more couples investing a bit of time and creativity into "DIYing" some of the essential elements of their special day, plus it could save you a few pennies here and there too. Here are a few ideas to create your own DIY wedding, helping you to celebrate your day, your way.
DIY Wedding Flowers
£560!! that is the average amount you will be expected to pay these days for your wedding flowers. With a little creativity, some willing helpers and everyday kitchen items such as jam jars, tin cans and empty wine bottles you can create stunning floral displays with a wow factor for a margin of the cost. Along with some lace, ribbon , garden twine and wire your DIY floral decorations can be used to hang off church pews, to decorate your civil ceremony wedding venue or used as table decorations at your wedding feast. Keeping it seasonal will also keep the cost down. You can pick up inexpensive blooms such as daffodils, tulips and freesias in the spring or marigolds or gerberas in the Autumn. Carnations, roses and the staple of the wedding season gypsophilia, are cost effective, easily accessible flowers that are popular. Why not check out our Wedding Ideas pinterest board for more inspiration to help with your DIY Wedding Flowers.

Vase Centerpiece, Tin Can Table Decorations, Hanging Tin Can Garland,Wedding Flower Jam Jar,
DIY Wedding Decorations
Wow your guests with wonderful wedding decorations which you can make yourself. Remember those empty wine bottles? Not only can they be used as flower vases but they also make fabulous Table markers too. Bling them up with chalk board paint, glitter or hessian and lace and then simply add your table number. There are some great free printables around but we just love this Rustic Lace design, simply glue them to your bottles or insert into the cork. Table confetti is another popular wedding decoration and will make your tables look amazing. All you need is some pretty wrapping paper,old music sheets, paint sample strips, or newspaper and a paper punch (why not a heart shaped one!) and then punch away. This can be made in advance (in the evenings perhaps) ready to sprinkle on the big day…..and for the finishing touch why not hang up some wedding bunting too!!

Tin Can Lanterns, Rustic Lace Table Numbers
DIY Wedding Cake
The cutting of the wedding cake is a long standing tradition which symbolises the first task of the couple's life together and is also a great photo opportunity for guests. So no doubt you'll want your wedding cake to be picture perfect. A fully decorated pre-made wedding cake costs around £100 per tier, so a four tier cake is going to set you back a whopping £400. For a fraction of the price you can create a beautiful DIY Wedding Cake, but the trick is to keep it simple!! Depending on how many tiers you want, you can pick up ready made, ready iced plain cakes from supermarkets like M&S from between £54 - £130, plus you have the choice of fruit cake or sponge. Handy tip : Use fruit cake as your bottom tier to provide support for the other sponge tiers. Then all you need is some cake pillars, cake dowels, a cake topper, ribbon and some gorgeous fresh flowers. Roses are a fantastic flower to use on wedding cakes as they are always available, keep their shape and easy to co-ordinate with your colour scheme. Browse our pinterest board for some more DIY Wedding Cake ideas.

DIY Wedding Cake,How Much Cake Do You Need Guide
DIY Wedding Favours
Wedding favours are given by the newlyweds to the guests as a gesture of thanks for their attendance…. a little keepsake of the special day. Although, wedding favours have come along way from the traditional sugared almonds wrapped in tulle. We just love these 15 DIY Wedding Favour ideas , they are a little different and much more personal. With just a little time and effort your DIY wedding favours can be made direct from your home kitchen… a great idea for a girls night in. Kids favours are easy...they all love sweets!! These Mr & Mrs kilner jars are just perfect for filling with tasty goodies. Simply place on your favour table with some brown paper craft bags and your guests can help themselves. Finally check out this range of personalised wedding favour gifts for some fabulous best man and bridesmaid gift ideas.

DIY Wedding Favours,Personalised Kilner Jars,Mr & Mrs Gift Guide
DIY Wedding Entertainment
DJ's and Bands are the most popular form of wedding entertainment, but if your budget won't stretch that far or if you're having a smaller celebration, then you can always create your own playlist and set up a dance area within your venue. For the non mover and groovers then why not provide some games such as giant Jenga or giant skittles... great if you have some outdoor space. Don't forget the kids, they will need to be occupied too. These Mealtime Masterpiece placemats are perfect, just add some colouring pencils and you'll have works of art in no time. Wedding photo booths are another excellent way to keep your guests entertained, plus you will get some pretty funny wedding pics with this set of Wedding Booth props.

There you have it!! Some super craft ideas to DIY your wedding and after all that you deserve a little something too. So sit back, open a bottle and browse our Wedding Gifts range including Personalised Mr & Mrs Gift Ideas and start adding to your gift wish list today.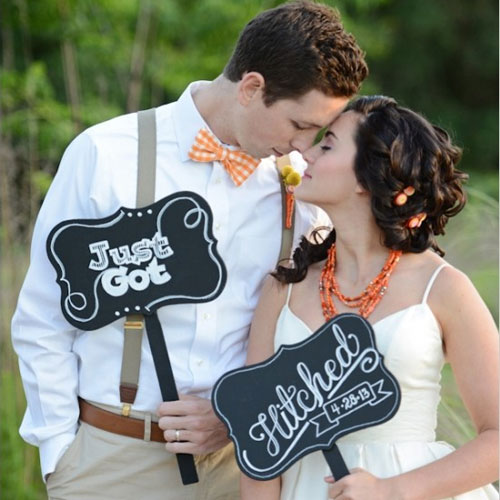 …..and finally! Congratulations! on your forthcoming marriage. We hope you have the day of your dreams.

Follow Kitchen Gift Co's board Wedding Gifts & Ideas on Pinterest.