Posted by The Kitchen Gift Co on 2nd Mar 2014
CORKCICLE WINE COOLER – COOL GADGETS!!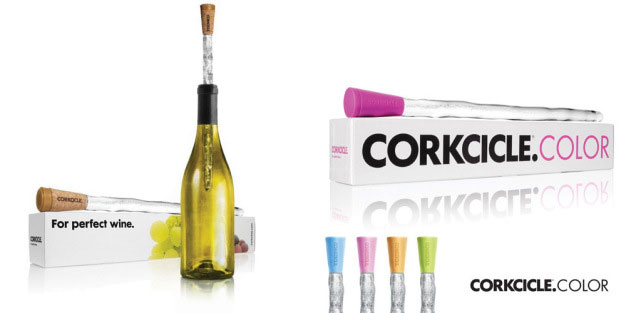 Corkcicle ?? Strange name but every household, every kitchen and every home bar needs super cool kitchen gadgets, so check out… The Corkcicle!! a handy wine accessory which will chill your wine from the inside. The Corkcicle wine cooler keeps your wine at the optimum temperature so you can enjoy the full flavour of your favourite wine, without the need for a ice buckets. Corkcicles slimline design means that it hardly takes up any room in your freezer, so you can always have it frozen and ready to chill your next bottle. Simply store this quirky wine cooler in your freezer for approximately 90 minutes for it to become fully frozen, then insert into your bottle and it will keep your wine at the perfect temperature (you might want to pour a cheeky little taster out first to make some room!!). White wines will be kept chilled for upto 45 minutes and believe it or not, the Corkcicle wine cooler can also be used to bring Red wines upto the optimum temperature by inserting it into your bottle of red wine for 10 minutes. If your looking for unique gifts for wine lovers, an unusual gift for mum or a new accessory for your wineware collection, then look no further. The Corkcicle is innovative, original, fun and as well as the Original Corkcicle which looks like a cork and is made from cork there is the Corkcicle Colour available in 4 fantastic colours Blue, Green, Pink and Orange. So say goodbye to your ice bucket because with the Corkcicle it really is chill time for your wine… A cool kitchen gadget that should be compulsory in every wine lover's home.
Available from The Kitchen Gift Company £19.95 www.thekitchengiftco.com