Posted by The Kitchen Gift Co on 5th Mar 2014
Bread Making For Beginners – 5 Top Bread Making Tips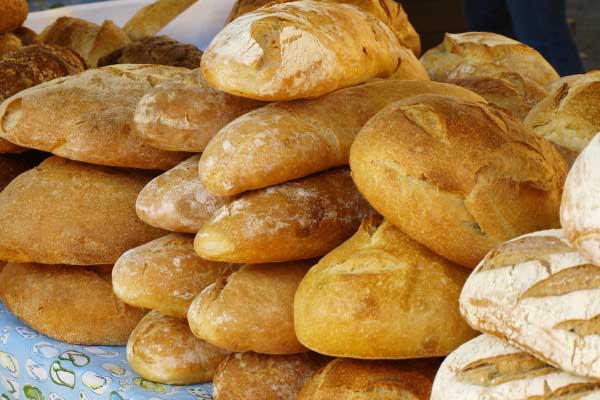 Bread making for beginners can be pretty daunting, but here is nothing more satisfying and comforting than ripping into a freshly baked loaf (that you have made yourself) and slathering it with salted butter. Yum!! Even better is the undeniably delicious aroma of the freshly baked good stuff, of which I am certain after a mere whiff flicks the "feel good factor" switch in most of us and the world seems a better place for it. (What a horrible thought!! The world without bread).
We know that crafty lot at the supermarket know exactly when to start baking so when you step inside their store you are uncontrollably drawn to the bakery counter!! I defy anyone who can walk past without picking up a belting big bloomer along the way! If only we could bottle this unique aroma then life would be perfect everyday.
Fear not folks!! You too can have this wonderful essence permeate through your kitchen because this week is National Bread week and we challenge you to don your aprons, get baking and produce your own home baked crusty loaf!!
Yes I know homemade bread baking can be time consuming and can take a bit of practice but believe me it is definitely worth it and very therapeutic.
I am a novice bread maker and it took a fair few attempts before my other half would let me make his sandwiches out of it. He wouldn`t even feed it to the ducks as he feared that they would sink. Needless to say after this comment my kneading skills quickly improved.
So here are my top 5 Bread making tips to get you started. Bread making for beginners couldn`t be easier.
TOP 5 BREAD MAKING TIPS AND HINTS
1) MIXING – If you are mixing your dough by hand then expect it to be sticky. If you don't want the dough sticking to your hands then coat them in a thin layer of oil to prevent this. Just keep mixing until it bonds together.

2) KNEADING – Needs to be done for about 10-15 minutes. A great exercise to combat any bingo wings!! Add more water if the dough hasn`t come together. Better to have it too sticky then too dry. If you hold the dough up and it doesn't break apart then it is ready. Finished doughs need to be torn apart as the gluten in the dough makes it very stretchy.

3) FLOUR – Too much flour can make your bread tough inside so for this reason try not to over-flour your work surface
4) PROOFING (PROVING) – This is when the action happens. Your dough will need to prove (this is the time-consuming bit) which means that the yeast will start to ferment producing the carbon dioxide needed for your bread to rise. Ensure that you leave it in a warm place with a clean dry tea towel over the top of it which will stop a skin from forming.Be patient here and prove for as long as your recipe states. A 2nd proving maybe required, be sure to check your recipe carefully.
5)BAKING – If possible, cook your loaf in the centre of the middle shelf of the oven. If it is too close to either side of the oven it could split on one side. A tray of water at the bottom of your oven will create steam which helps to open the dough during baking which should result in a golden crunchy crust
So there you have it!! 5 top tips to get you going.
White bread, baguette, ciabatta, naan, pitta, focaccia, sourdough, rye, pizza dough,flat bread, corn bread, soda bread, challah,brioche,panettone, pumpernickel, tiger bread, wholewheat bread……the list goes on and on. So go forth and let your bread bins overfloweth!!

To go with your 5 top tips here are 5 top bread recipes to get you started.
Paul Hollywood`s Crusty White Cob
Bread Jamie Oliver`s Homemade Pizza Dough
James Martin`s Irish Soda Bread