Posted by The Kitchen Gift Co on 3rd Mar 2014
Best Afternoon Tea in London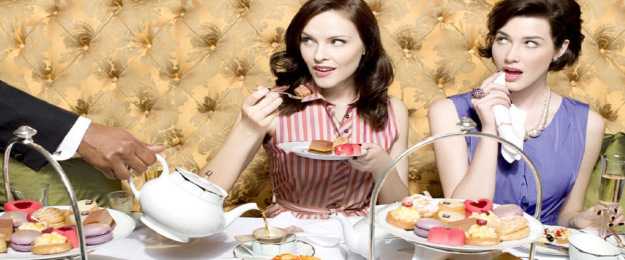 The Best Afternoon Tea in London is undeniably difficult to determine, but I decided to sacrifice my waistline and take it upon myself to research some of the finest establishments in the city in an attempt to find the Best Afternoon Tea in London. Hard task I know, but someone had to do it. Please note that I willingly took on this research project (no arm twisting at all!!) and in conducting this research I duly accepted that I would have to spend the next 6 months in the gym!! (lots of arm twisting!!)
Well how did this great tradition start and where would you go for the Best Afternoon Tea in London? This Great British Nation of ours have been enjoying a good old cuppa since King Charlie II introduced tea to Britain in the 1660`s, but the concept of "afternoon tea" did not become a fashionable social event until the mid to late 1800`s when Anna (Duchess of Bedford don`t you know!!) would find herself rather peckish at around 4pm, so would indulge in a spot of cucumber butty munching with her mates (Crustless of course). Hence the quintessentially British custom of afternoon tea was born. Nowadays most of us settle for a mug of builders tea and a choccy digestive….. So has the British institution of afternoon tea waivered? Surely not!! Ok ok so if we were to eat a proper afternoon tea everyday then we`d all be the size of a mansion, so nowadays the tradition of "taking Afternoon Tea" is saved for a treat or special occasion. A gift of Afternoon Tea is such a thoughtful gesture and an amazing treat for that special someone to celebrate a Birthday, Mother`s Day, Anniversary, Being a New Mum, or even becoming a New Bride. So I have scoured the city to find establishments offering the Best Afternoon Tea in London….yum yum it was lip smackingly good!!
Best Afternoon Tea in London with a Royal Twist
The Best Afternoon Tea in London would have to be Tea with the Queen? Sorry folks!! not possible unless you are on her Majesty`s Royal Garden Party guest list, but I have found the next best thing. Add the Royal touch to your afternoon tea London experience and treat the Queen in your life to traditional London afternoon tea in Palatial surroundings. A Tour of Kensington Palace or The Queens Gallery at Buckingham Palace with Afternoon Tea for two at the nearby 5* Royal Garden Hotel where tea for two starts from £79.00. This Royal affair would make an anniversary gift to remember. Or why not celebrate your birthday in style with afternoon tea at the 300 year old British institution Fortnum and Mason`s newly renovated Diamond Jubilee Tea Salon with the menu including finger sandwiches, scones and cakes from the Highgrove Cake Carriage and prices starting from £90.00 for afternoon tea for two.
Best Afternoon Tea in London 5* Hotels
If the traditional Regal approach doesn`t put the jam in your scone then let`s take a look at the glitz and grandeur of the Best Afternoon Tea in London`s 5* luxury hotels. Two words….THE RITZ!! where tea is served in the elegant Palm Court with background music by a pianist or harpist.Prices start from £90.00 for tea for two, but gents you`ll have to scrub up well for this one..Jacket and tie essential , jeans and trainers a big no no!!
If it`s a touch of romance you are after for a Valentine`s Day treat then why not try afternoon tea for two at the Park Lane InterContinental`s Wellington Lounge which has been awarded 'The Tea Guild special Award of Excellence 2013′ in recognition of its outstanding quality and consistently high standards in Afternoon Tea service.Try the hotel's own bespoke Wellington Blend tea, created by Executive Chef Paul Bates in association with modern tea emporium The Tea Palace, which blends Assam, Chinese black teas, Earl Grey blue flowers and softened by English corn flowers and mallow blossoms. Afternoon Tea for two starts from £56.00 with Champagne upgrades available for those extra special occasions. "Smart Caj" for the dress code but sadly no live music. Could this be the Best Afternoon Tea in London? or like Alice shall we explore further the magical wonderland of afternoon tea.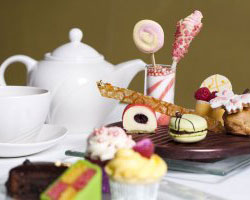 Now, I know how much the ladies luuuurve their chocolate so for me this next one is high up on the list of Best Afternoon Tea in London. The Chocoholic Afternoon Tea at The Hilton on Park Lane is such a sweet way to celebrate a girlie get-together. Whether it is a milestone birthday, becoming a new mum, new wife or even celebrating your divorce!! The afternoon tea here comes highly recommended with 4 sumptuous courses including…Classic British sandwiches, followed by a selection of scones, then freshly made pastries and then finally the Chocoholic`s dream – a course of miniature fancies. Of course let`s not forget the tea, which has been specially blended by Harvey and Sons to create the perfect cup and gives this hotel its place at The Tea Guild…quite proper don`t you think? Prices start from £59.00 for two.
No list of the Best Afternoon Tea in London would be complete without a mention of Harrods. Quintessentially English afternoon tea at its` restaurant – The Georgian, stands amongst London's finest and, when enjoyed in such regal surroundings, is an experience to be savoured, remembered and repeated. Freshly cut sandwiches, scones and pastries are accompanied by your choice of tea from Harrods private tea gardens. Afternoon Tea in London at Harrods for two will set you back £58.00 for the traditional fayre, or £72.00 for the Champagne version, so fairly reasonable in my book and enough pennies left over for another round of retail therapy maybe?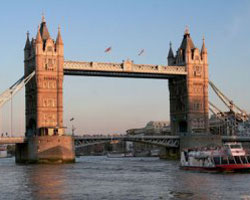 ….and finally for those wanting to take in the splendours of Londinium then the Afternoon Tea Cruise along one of the most famous rivers in the world is a must. Spend an afternoon cruising along the River Thames taking in the sights from Big Ben, Shakespeare`s Globe to Tower Bridge whilst enjoying sandwiches, pastries and scones, as well as an assortment of teas and musical delights as you glide along. Relax and unwind with the most English of past-times – an indulgently delicious afternoon tea.
So there you have it!! my run down on the Best Afternoon Tea in London. I think you would agree that there is certainly something to tickle everyones tastebuds.
Afternoon Tea… what a wonderful gift!!! Now to the Gym ;)