Posted by The Kitchen Gift Co on 13th Feb 2014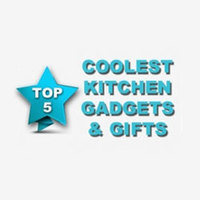 Kitchen Gifts & Gadgets You Just Gotta Have...
This list features 5 of the coolest kitchen gadgets and kitchen gifts available. You will definitely want to add these to your kitchen gift wishlist... What do you think would these kitchen gadgets and gifts be in your top 5? Let us know by leaving a comment below..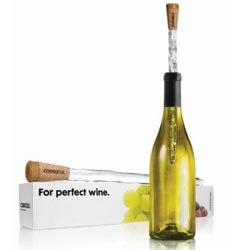 Every kitchen needs super cool kitchen gadgets, so check out... The Corkcicle!! a very handy wine accessory which will chill your wine from the inside. The Corkcicle wine cooler keeps your wine at the optimum temperature so you can enjoy the full flavour of your favourite wine, without the need for a ice buckets. Corkcicles slimline design means that it hardly takes up any room in your freezer, so you can always have it frozen and ready to chill your next bottle. Simply store this quirky wine cooler in your freezer for approximately 90 minutes for it to become fully frozen, then insert into your bottle and it will keep your wine at the perfect temperature (you might want to pour a cheeky little taster out first to make some room!!). White wines will be kept chilled for up to 45 minutes and believe it or not, the Corkcicle wine cooler can also be used to bring Red wines upto the optimum temperature by inserting it into your bottle of red wine for 10 minutes. If your looking for unique gifts for wine lovers, an unusual gift for mum or a new accessory for your wineware collection, then look no further. The Corkcicle is innovative, original, fun and super cool....Say goodbye to your ice bucket because the Corkcicle really is chill time for your wine and its only. £19.95.
Mr Tea just loves to kick back and relax, take a soak in his tea Jacuzzi and infuse his pantload of loose leaf tea to make you the perfect brew. He really is a handy little guy to have around the kitchen and a popular little fella in the tea gifts market. With the recent explosion in the popularity of loose leaf teas, is it any wonder that Mr Tea tea infusers are being snapped up as kitchen gifts for tea lovers everywhere. He is made from food safe silicone and you simply fill his holey pants with your favourite loose leaf tea blend and settle him into your cup of hot water for a two minute soak (or longer, depending on how you like your tea). His arms cleverly hang over the rim of the cup, so there is no danger of him going under!! A charming tea-time companion and one of those must have kitchen gadgets.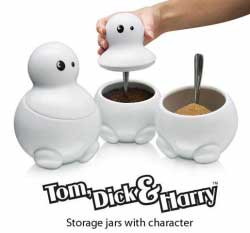 If you`re looking to add some character to your kitchen, then you won`t go far wrong with this terrific trio. Tom, Dick and Harry are a quirky set of porcelain storage jars for your tea and coffee making needs. Just look at the glint in their eyes to discover what`s inside, T : tea, C : Coffee and S : Sugar, unless you can think of anything else to store instead : treats, candies and sweets perhaps? Either way Tom, Dick and Harry with their silicone rubber seals will ensure that their contents stay fresh as a daisy and your kitchen will look super stylish to boot. This triple act surely does make a cool kitchen gift.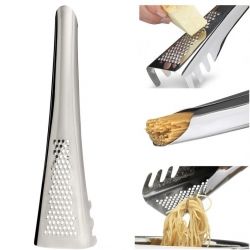 This has got to be one of the best kitchen gadgets on the market. The Sagaform Pasta Server and Parmesan Grater is one of those must have kitchen gadgets, especially if you have a love cooking Italian cuisine. This innovative dual function kitchen tool not only looks great but also does "grate", as well as serve up your delicious pasta with it`s 6 prong serving spork ( A cross between a spoon and a fork). If you are ever in need of stylish cooking gifts then this handy kitchen accessory has got to be The Godfather of all cooking gifts. Buon Appetito!!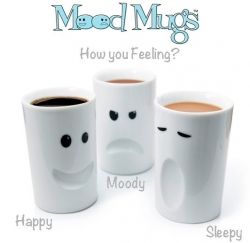 If you need a little extra time to wake up in the morning then you need this Seriously Sleepy Mood Mug. This quirky porcelain cup has double walled insulation so your morning cuppa will stay hotter for longer and his sleepy face will ensure that your friends and family steer clear until that first hit of caffeine has kicked in. If you are geared up and raring to go in the mornings then Happy as Larry is ready to help you spread a little happiness over the breakfast table. And for those of you who just "don`t do morning" then the Monstrously Moody Mood Mug will keep those breakfast table chatters at bay. These quirky little fellas are British designed and terrific little kitchen gifts for all friends and family.