Posted by The Kitchen Gift Company on 27th Mar 2023
Check out our list of 10 easy bake sale ideas that you can make with the kids as well as some free bake sale printables
You're just settling down to watch your favourite TV show when someone suddenly remembers... it's the school bake sale tomorrow!!! which means they need something delicious to sell. Fear not! Whether you're baking for the School Fair, the Church Coffee morning or the Village Fete here are our 10 top picks for fun and easy bake sale ideas that are tasty, impressive and kid friendly, so you and your children can enjoy cooking them together.
"Easy Bakes
for your School Fetes"
Cake Pops
Cake pops are perfect for bake sales as they're fun to make, come individually wrapped and are the perfect size for kids. A cake pop kit gives you everything you need to create and display these bite size treats at your next bake sale. To make cake pops you can either use a cake pop mould or the more traditional crumble method. To start, either whip up a batch of your favourite cupcakes (or use leftover sponge if you're an avid baker) and crumble it into a basic buttercream. Next, form this mixture into small balls - kids love this bit as it generally involves getting messy! Once cooled, cover the balls in melted chocolate and dip into your choice of sprinkles. Get creative by adding decoration to create faces, animals or seasonal designs such as Christmas baubles or pumpkins. Check out Sugarkissed.net for more inspiration cake pops tutorials and recipes.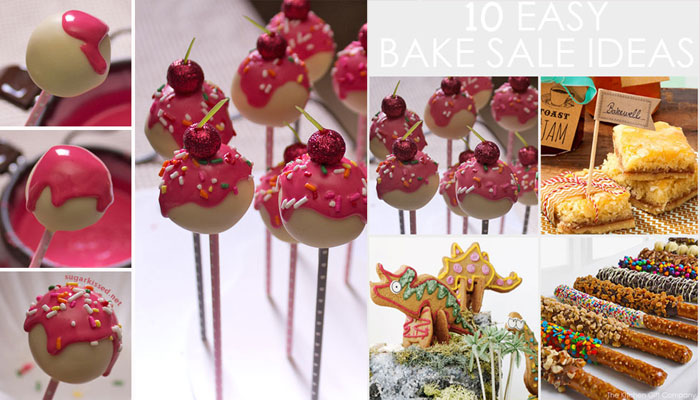 3D Cookies
Everyone loves a good cookie and they are surprisingly easy to make. Why not take your cookies up to the next level with these impressive 3D cookie cutters that kids will go crazy for. These 3D designs work well with any non-crumbly cookie mix such as a simple sugar cookie, gingerbread or shortbread. Get creative with food colouring in your cookie mix and finish them off with icing or decorations such as these characterful Edible Eyes.



Tray Bakes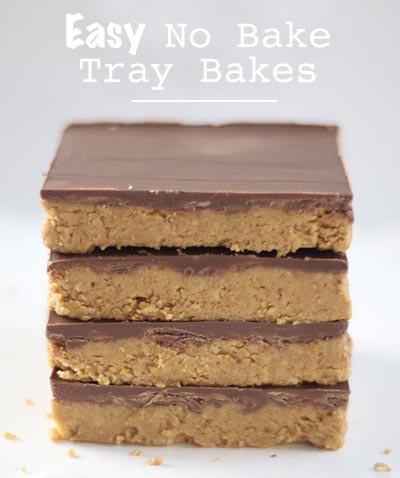 Tray bakes have always been a staple at bake sales because they are easy to make and taste great. The possibilities are endless when it comes to tray bakes – flapjacks, caramel shortbread or rice crispy squares are always snapped up at any bake sale. This no-cook tray bake is ideal for making with children. Be sure to use some Bake Sale Food Flags for an impressive and tempting display.
Chocolate Peanut Butter Squares Recipe
Stir together 210g digestive biscuit crumbs with 330g icing sugar, 260g peanut butter and 225g melted butter.

Press the mix firmly into the bottom of your tray (20x30cm works well).

Next melt 340g chocolate and pour this on top.

Chill until the chocolate has set then cut into squares.

Keep chilled until serving.
Mini Cupcakes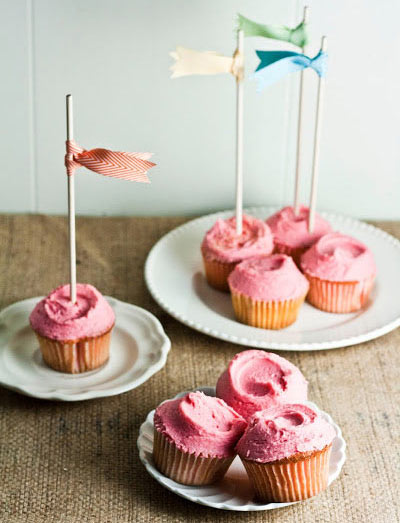 Mini cupcakes are becoming more and more popular recently. Their miniature proportions mean they look super cute and lend themselves to a host of interesting designs. If you're catering for a lot of children your favourite cupcake mix will go a whole lot further in a mini cupcake tin.
For a perfect child friendly recipe try these Strawberry Milkshake Cupcakes inspired by Hummingbird Bakery
Strawberry Milkshake Mini Cupcakes Recipe
Combine 35g butter, 105g plain flour, 125g sugar, ½ tbsp baking powder and a pinch of salt in a large bowl.

Add 105ml milk, 1 egg, 20g strawberry milkshake powder and whisk until smooth.

Bake at 170C (325F) for around 15 minutes (you can use mini cupcake liners or simply grease the tin before use).

Combine 250g icing sugar, 80g unsalted butter, 25ml milk and 50g strawberry milkshake powder.

Decorate with the icing and other finishing touches such as strawberry laces, gummy bears or white chocolate buttons.




Oreo Pops
If you're pushed for time then this fantastic bake sale idea is a winner. All you need is a couple of packets of Oreo cookies or other cream filled biscuits, Chocolate for melting, sprinkles, and some lollypop sticks. You will be amazed at how quick an easy this no bake recipe is, plus the kids will love them.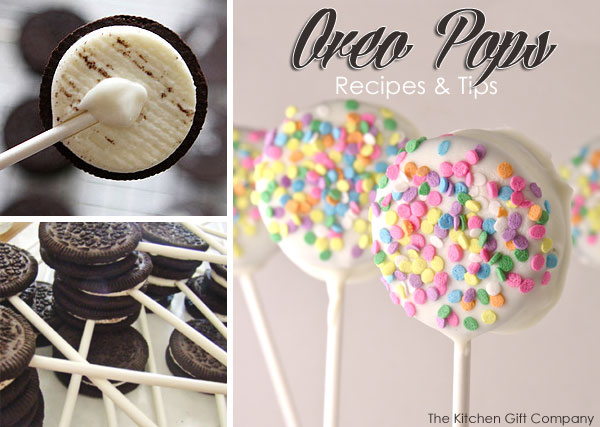 Oreo Pops Recipe
Firstly line a baking tray with baking paper and put the sprinkles in a bowl

Then carefully push a lollypop stick into the creamy part of the cookie

Melt the chocolate in a bowl over a pan of simmering water

Dip the cookie in the melted chocolate and then immediately dip into the sprinkles for full coverage or sprinkle from above for a more scattered effect

Place the lollypop stick on the baking tray to set
Smiley Pizza
For something a little different why not try savoury mini pizzas? Cut out the bases from basic tortilla wraps and sprinkle on some mozzarella (the firmer type works best if you can get it). Next, add your choice of toppings – tomato pasta or BBQ sauce, vegetables and ham or pepperoni all work well. Get creative with your children making pizza faces, then bake until the cheese is golden. These mini pizzas are great hot or cold and can be made the day before.

Love Heart Cakes & Food Flags
Create irresistible love heart cakes with this easy to use silicone heart shaped cake mould Simply use it like a normal cake tin, using your favourite sponge cake recipe and once your cake has baked and cooled you can slice it into 6 equal portions, creating 6 delicious Love Heart Cakes. All you need to do then is decorate with buttercream and perhaps some of these delightful vintage style food flags to tempt your cake buyers.
Cherry Pie Pops
If the kids like Cherry pie then they are gonna love these Cherry Pie Pops. Quick, easy and perfect for Bake Sales. All you need to make these scrumptious pie pops is some supermarket sweet shortcrust pastry, a can of cherry pie filling and some oven proof lollypop sticks (Remember not to use plastic ones!!). You'll also need a little flour for dusting, an egg white for glazing and a fluted cookie / pastry cutter.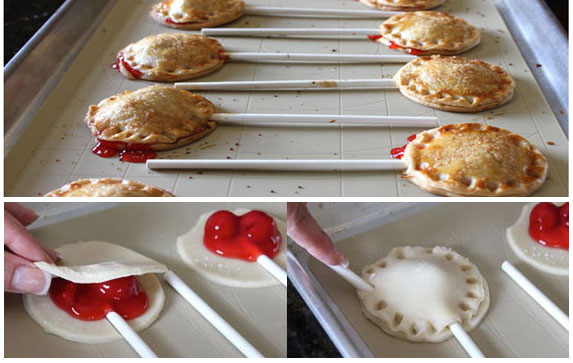 Cherry Pie Pop Tops Recipe
Heat the oven to 190C or 375F

Dust your worktop with a little flour and roll out the pastry dough

Cut out pastry circles with the cookie cutter and place a lollypop stick firmly onto the pastry circle, so that it is pretty much in the middle.

Open the can of cherry pie filling and place a cherry with a little of the juice on the centre of the pastry circle.

Dab a little egg white around the edge of the pastry circle and then place another pastry circle on top, ensuring that the edges seal together. You can use the prongs of a fork of the end of a lollypop stick to create decorative design around the edge.

Glaze the pie pop with the egg white and bake in the centre of the oven for 12-15 minutes until golden
Cheats Cupcakes
Now there is nothing wrong with getting a little help sometimes, especially if you are attempting a last minute baking extravaganza. Why not call upon the fairy cake godmother Betty Crocker to give you a helping hand. With so many delicious flavours to choose from these supermarket bought cake mixes and buttercream icings are a life saver. Make your cupcakes extra special and more "home-made" looking by choosing some gorgeous cupcake cases and make a dazzling display with a beautiful cupcake stand. No-one will know and you will be deemed a domestic goddess!!

Chocolate Covered Pretzels
Now these really are something special! With the growing trend of putting salty and sweet things together, these Chocolate covered pretzels will not disappoint at your bake sale. Another non-bake recipe, all you need to do is melt some chocolate and get dipping an shaking. A great fun filled baking activity for the kids to get involved with too. You will need some Pretzel Rods, Plain, Milk or White Chocolate for melting (or you can use all 3) and some sprinkles. You will also need a baking tray lined with baking paper.
Chocolate Pretzel Recipe
Line your baking tray with baking paper

Place your sprinkles on a flat plate

Melt half of your chocolate in a microwaveable bowl using 50% power and 30 second intervals, stirring between each 30 seconds.

Add some non-melted chocolate and let it melt naturally. This will bring the chocolate down to the correct temperature to ensure a nice hard glossy finish.

Dip the pretzels into the chocolate ensuring that it goes two thirds of the way down.

Roll the chocolate covered pretzels in the sprinkles or drizzle with white chocolate.

Place on the baking tray to set.
If you can't find pretzel rods then this recipe works equally as well with marshmallows. Simply use a toothpick to dip and roll.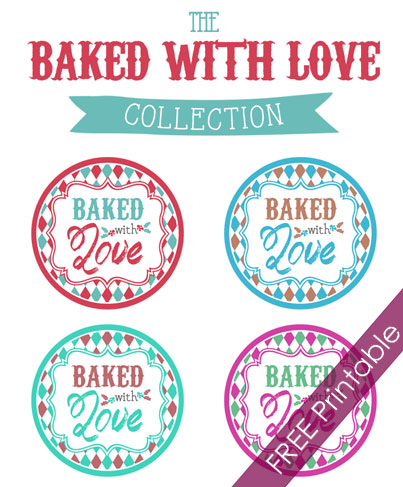 Free Printables - Baked With Love
Why not check out these free Bake Sale Printables They are sure to make your culinary creations stand out from the crowd.
......And there you have it!! Our top 10 Easy Bake Sale Ideas that are creative, kid-friendly, impressive and of course tasty to boot !!